PLEASE   NOTE  AS FROM  THE  5TH OF JULY 2016  HEATHWOOD CARPETS & FLOORING IS OWNED AS A SOLE PROPRIETOR BUSINESS  BY MR MARTIN DAVIES    AND TRADING  AS  M.C DAVIES  TRADING AS  HEATHWOOD CARPETS & FLOORING  AND IS A SEPERATE  BUSINESS TO THE ONE BEFORE THIS  DATE.
PLEASE  ALSO NOTE  THAT MR ANDY MALLOY  PICTURED ABOVE IS NO LONGER  A MEMBER OF OUR NEW  SELF EMPLOYED FITTERS TEAM
WE WOULD LIKE TO WISH ALL OUR  CUSTOMERS      A WONDERFUL  2017  THANKYOU  TO EVERYBODY FOR THEIR  AMAZING  CONTINUED  SUPPORT  THROUGHOUT  2016
"2016  for our family business was a very busy year but also a very sad year with the death of my father  Vivian  who was up to the 5th of july 2016 the owner of Heathwood Carpets. Many of you will be aware of the passing of my father  and I  would  personally  like to thank you all for your kindness and consideration  during very difficult times .I know my father was very  proud  of what  we have achieved  during the time we have been in business  and i  know he would want us to carry on and strive to achieve  the  ultimate goals we aimed for from the start . The growth of Heathwood carpets  to date   has to say the least  exceeded  all expectations  but  today  that  would be a far different situation  if  it wasn't for the help and guidance from my father of which my  family and I will always be truely indebted to him for"
M DAVIES   18TH JAN 2017 `
"
MANAGEMENT  ARE PROUD TO INFORM  ALL  NEW  CUSTOMERS  THAT  WE  WILL  NOT BE  ADVERTISING  ANY   SALES    AS  WE  WILL BE GIVING  ALL OUR CUSTOMERS  OUR BEST PRICE  AND BEST LEVEL OF SERVICE  THROUGHOUT  2017
WE ARE PLEASED TO  ANNOUNCE  THE ADDITION TO OUR FITTING TEAM  OF MR JAMES ROBSON (PICTURED BELOW)
JAMES  HAS EXTENSIVE EXPERIENCE IN THE FITTING OF COMMERCIAL FLOORS AND LVT SUCH AS KARNDEAN FLOORING  AND WITH THE GROWTH OF DEMAND OF THIS PART OF OUR BUSINESS  THE ADDITION OF JAMES IS MOST WELCOME
YOU CAN CHECK OUT JAMES ON HIS WEB  AT  www.onestepaheadflooring.co.uk
ON THE 20TH OF FEBUARY  2016   IT  WAS  HEATHWOODS  4TH ANNIVERSARY
It was a great day for us .Special thanks to those who attended  in helping us celebrate what has been a remarkable Four  years in the life of Heathwood .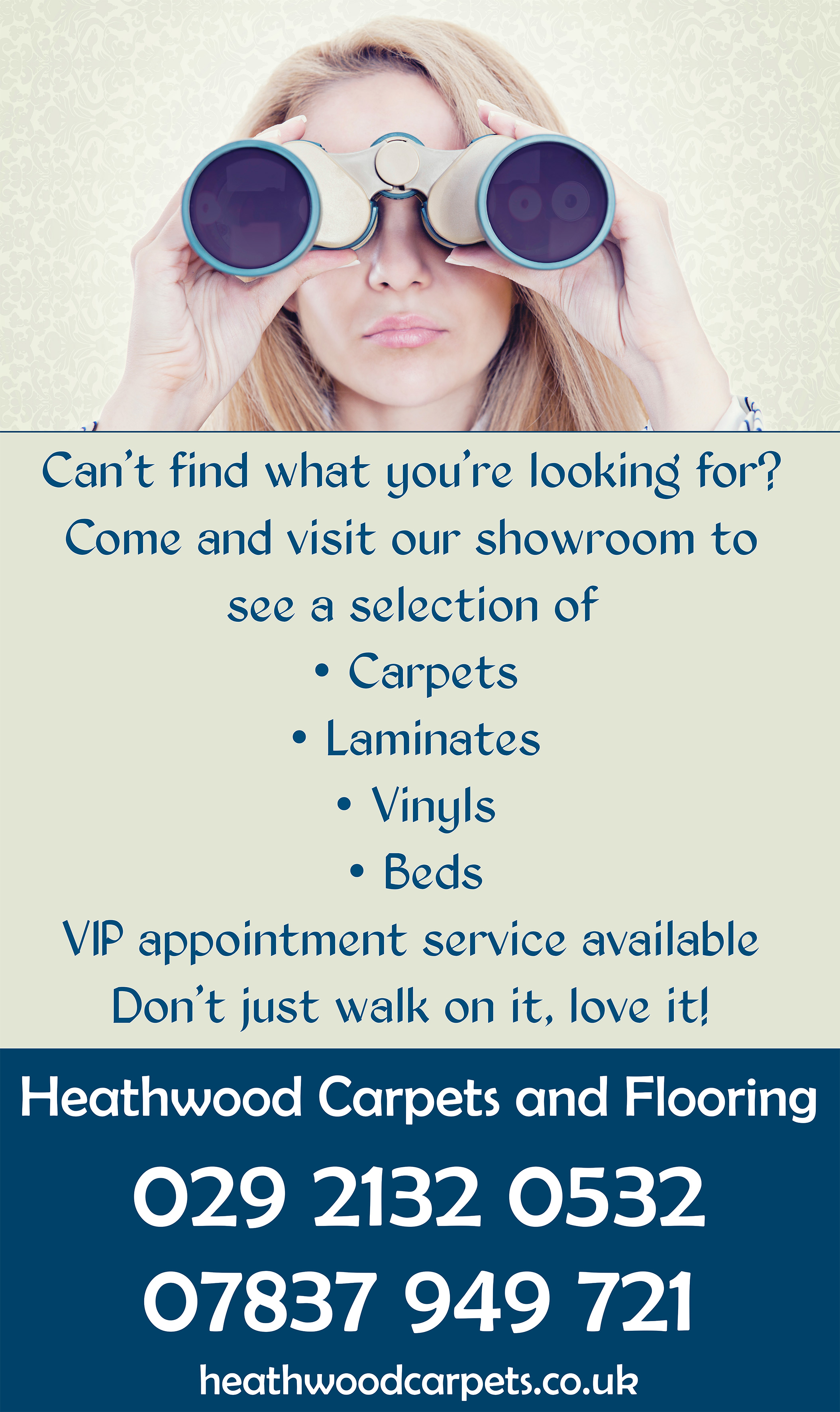 "The ultimate in flooring experience"
ON THE 20th  of  FEBUARY  2016  IT WAS OUR  4th  ANNIVERSARY  IN BIRCHGROVE CARDIFF ALL STAFF AND MANAGEMENT WOULD LIKE TO THANK ALL THEIR CUSTOMERS  FOR THE WONDERFUL SUPPORT WE HAVE RECEIVED OVER THE PAST  4 YEARS .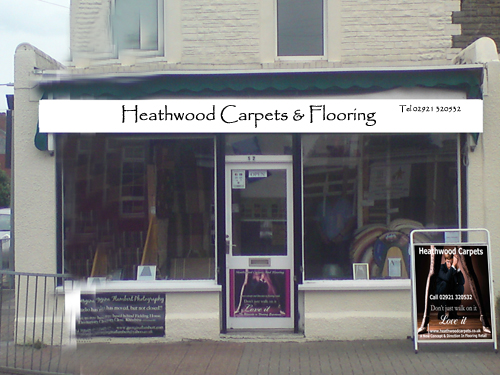 Above pic Heathwood carpets  june 2012
below pics  Heathwood  carpets  August  2012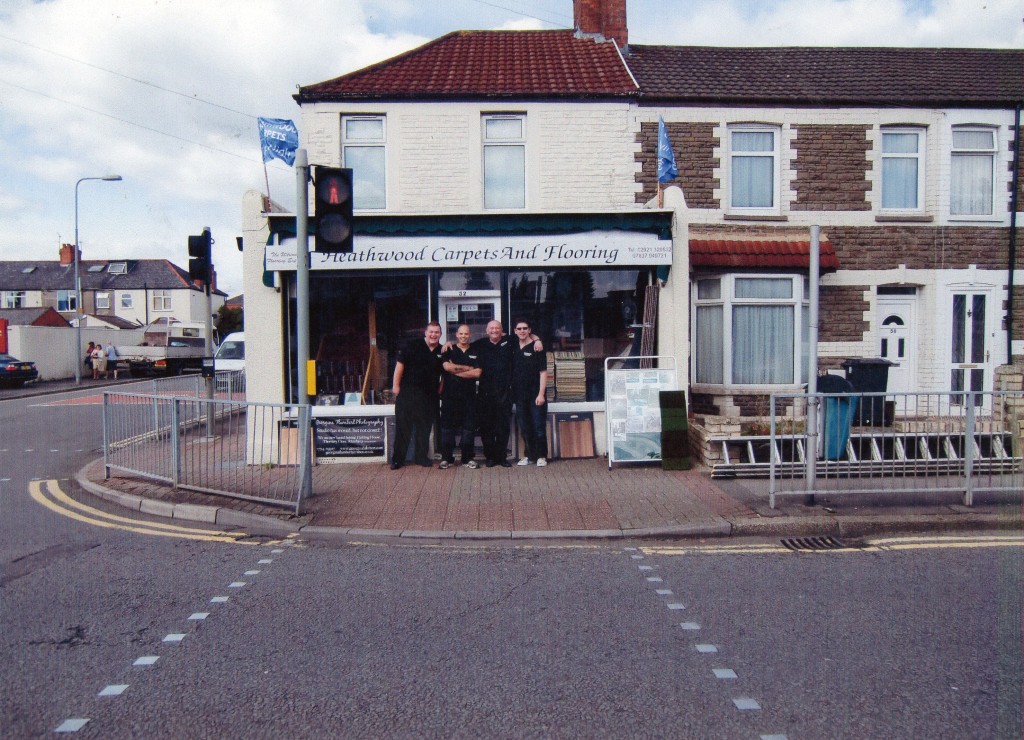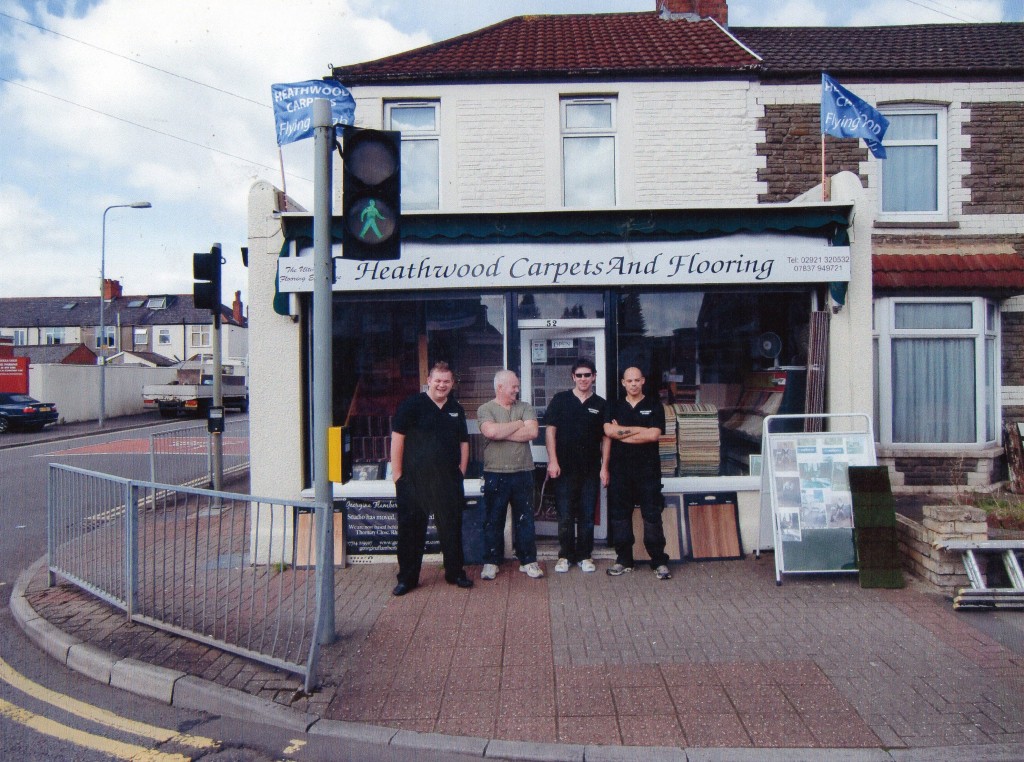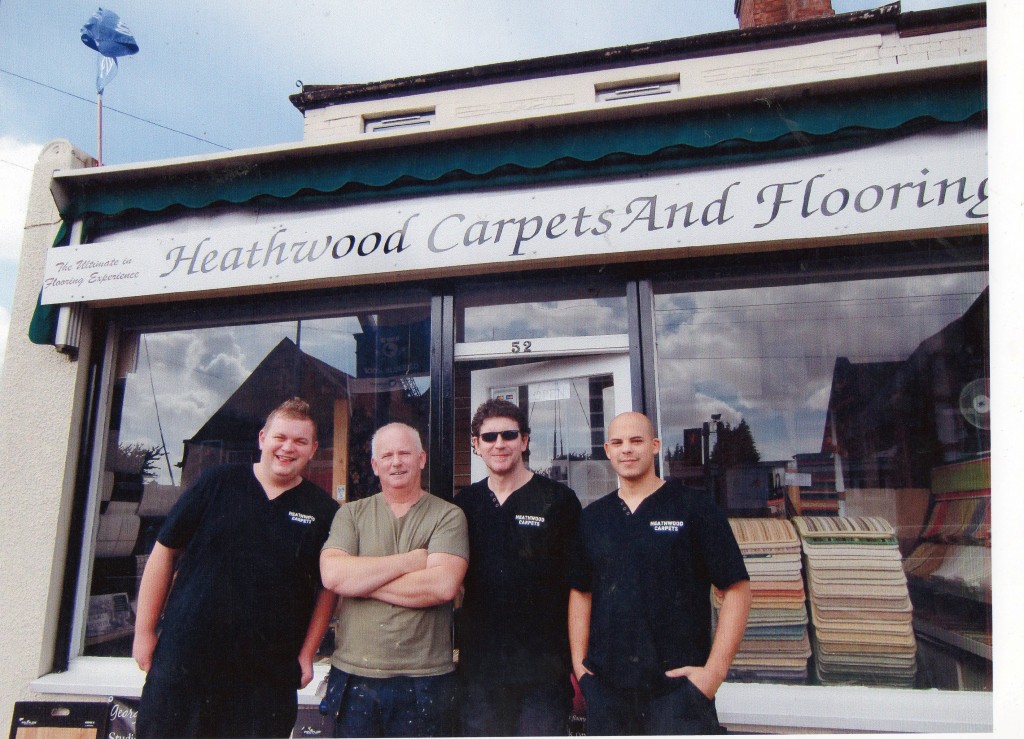 Management has  carefully chosen the above location as it conforms to the minimum space
required to display the vast amount of ranges currently available within the flooring trade.
Our overheads are  kept to the minimum and enables us  to offer the public a better overall price than  any  of  the larger outlets  which in turn helps us to maximise our profits  and allows us to be able to offer a higher quality service to each and every potential customer.
Our shop is one of the smallest flooring shops in cardiff   but we really dont care at all  about that as we  still have one of the biggest selections around…….who needs a retail park we certainly don't because if we did in this day and age we would end up going out of business like the rest who have tried it!
Heathwood carpets and flooring …….."The small shop with a massive punch".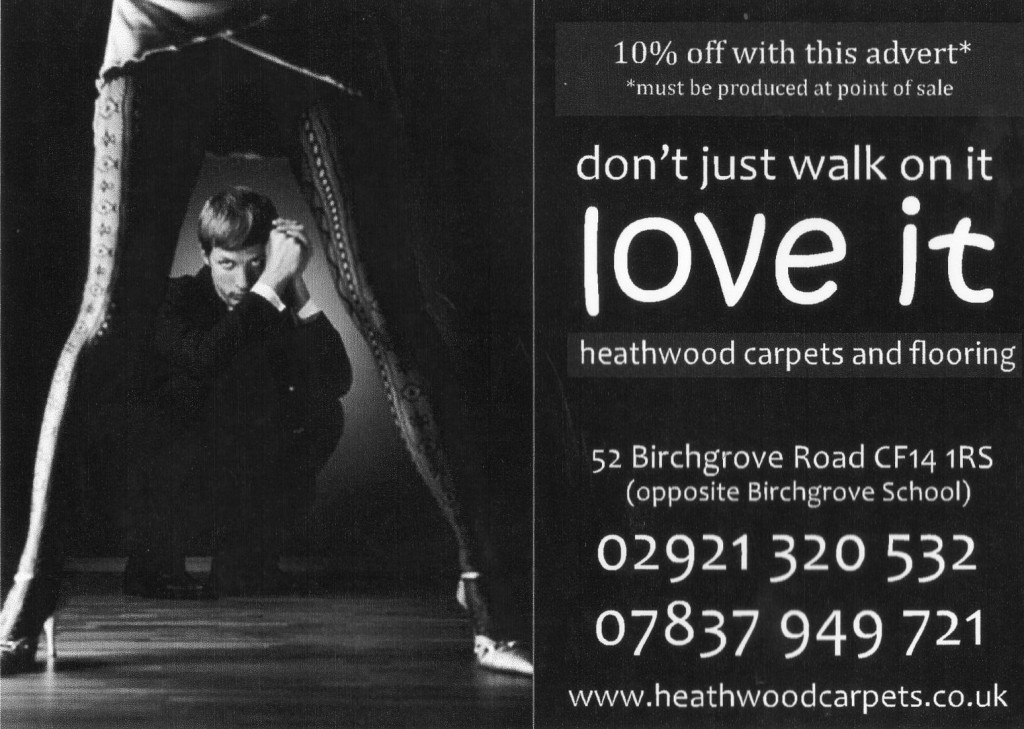 Heathwood Carpets And Flooring is a family run business with staff with over 25  years experience in the flooring trade. Heathwood carpets is owned by Mr Vivian Davies and managed by his son Martin Davies the owner of a previous family business Mountain Ash Carpets. Heathwood Carpets opened their new shop at 52 Birchgrove Road Birchgrove Cardiff in Febuary 2012 and are intent on bringing their exceptional service and innovative ideas to the thousands of people in Cardiff and surrounding areas. Heathwood Carpets occupy the property at 52 Birchgrove Road which is opposite Birchgrove Primary School. The property was previously occupied by Georgina Flambert Photography and prior to that the Brooklyn Art gallery run by the famous Nasir Shiraz. The property may be better known by families who have grown up in the suburb of Birchgrove as the old cobblers shop. The property is small in size relatively to some flooring retailers but one is able to select their flooring from a choice of over 10000 designs the majority of which are available for next day free delivery. Due to the size of our property and the fact we do not need to stock goods our outlay and overheads will always be kept to a minimum and therefore our prices on a like for like basis will always be overall  vastly cheaper than the larger better known flooring retailers. Heathwood Carpets massive selection of products are selected to embrace the varying budgets of the public and will try and cater for everybody whether it be for a cheap cord carpet or a very expensive wool carpet. Heathwood Carpets have several fitting teams who have decades of experience and training in the fitting of carpets.vinyls,laminates,woods and alternative flooring such as Karndean,Camaro and Colonia. Heathwood Carpets intention is to supply their goods and services to the ultimate standard of excellence and realise the importance of referals as the best form of advertising. Heathwood carpets trademark apart from the quality and standard of service they aim for is their  refusal to enter into gimmicks to entice and then trap customers into buying. Heathwood carpets never advertise gimmicks such as free fitting,60% off,half price and then 20%off,sale must end soon etc as all of these tend to be gimmicks and are not creditable.Prices are usually preinflated before hand and the fact of the matter is that most retailers can afford to do the reduced prices throughout the year. Heathwood Carpets do not enter into  these gimmicks infact we will never advertise the word SALE because we dont need to as we will give you the best price every day of the week and every week of the year every year. This way you buy when you decide is best for you and not when you are forced by the powers of marketing. Heathwood carpets intention is to offer the ultimate flooring experience within an industry they feel has been offered to the public too often at a poor level of quality and honesty. Heathwood Carpets are the only flooring retailer in the uk to offer the unique V.I.P appointment service where they will open exclusively for individual customers or families their entire showroom just for them and them alone outside normal trading times 7 days a week.This service is becoming popular with families where both partners work and management realise the importance of a peaceful environment for some people to make important decisions on their flooring needs. This service must be booked in advance. For the less mobile Heathwood also offer a pick me up service where we will pick you up from your home take you to our showroom and then bring you back free of charge. Heathwood are available 7 days a week till late on their advertised mobiles to give quotes ,take bookings or to give general flooring advice. OUR LANDLINE NUMBER IS 02921 320532 PLEASE NOTE FOR ALL RESIDENTS OF CARDIFF THIS IS NOT A MISPRINT  THE CODE IS 02921  AND WE APOLOGISE TO JAYNE MATTHEWS WHO HAS BEEN RECEIVING OUR PHONE CALLS BY MISTAKE AND WE  THANK HER FOR HER UNDERSTANDING ……when we need a secretary you will be first on our list !! we are available on our mobile 07837949721     7 days a week and you can also visit us on facebook look for heathwood carpets or martin davies (look for the logo-dont just walk on it) YOU CAN  ALSO EMAIL US AT martindavies.1963@gmail.com WE OFFER A FREE MEASURING SERVICE AND UNLIKE SOME OTHER FLOORING RETAILERS THERE IS NO DEPOSIT REQUIRED FOR THIS SERVICE OR OBLIGATION TO BUY WE OFFER A FREE DELIVERY OF ALL OF OUR PRODUCTS TO ALL AREAS OF CARDIFF PLEASE NOTE AS FROM 27TH SEPT 2012 WE WILL BE OFFERING A FULL RANGE OF QUALITY CERAMIC  FLOOR AND WALL TILES FOR FURTHER INFORMATION ABOUT US PLEASE READ OUR POST "HEATHWOOD CARPETS THE NEW CONCEPT IN FLOORING RETAIL" and the post "THE TEAM"  PLEASE NOTE THIS WEB SITE IS IN THE PROCESS OF BEING BUILT WE AIM TO MAKE IT INFORMATIVE  AND INTERESTING AND ALTHOUGH THIS SITE IS ONLY BEEN LIVE SINCE JUNE 2012 IT  ALREADY SITS ON THE FIRST PAGE OF GOOGLE ON SEVERAL SEARCH CRITERIA AND IS A MESSAGE OF OUR INTENT IN THE MARKETING OF OUR BUSINESS IN THE FLOORING TRADE. SPECIFIC DETAILS OF OUR THOUSANDS OF PRODUCTS WILL TAKE TIME TO BE POSTED ON THIS WEBSITE SO IN THE MEANTIME FEEL FREE TO CONTACT US BY PHONE OR EMAIL. OUR NORMAL TRADING HOURS IN OUR SHOWROOM IN CARDIFF IS BETWEEN 9.30 AND 5.30 PM MONDAY TO SATURDAYS BUT ON SOME SATURDAYS WE CLOSE AT 1PM IF CARDIFF CITY FOOTBALL CLUB ARE PLAYING AT HOME SO PLEASE EVEN IF YOU DO NOT LIKE FOOTBALL PLEASE CHECK THE FIXTURE LIST! WE OPEN FOR VIP APPOINTMENTS EXCLUSIVELY FOR INDIVIDUAL CUSTOMERS  MONDAY TO SUNDAY OUTSIDE NORMAL TRADING TIMES TILL LATE  IF BOOKED IN ADVANCE AND OPERATE A MEASURING SERVICE MORNINGS ,AFTERNOONS AND EVENINGS. WE ALSO OPERATE A PICK ME UP SERVICE FOR CUSTOMERS WHO ARE NOT MOBILE FOR WHAT EVER REASON WHERE WE WILL PICK THEM UP FROM THEIR HOME TAKE THEM TO OUR SHOWROOM AND THEN RETURN THEM BACK HOME FREE OF CHARGE. CONSIDERING ALL OF THE SERVICES THAT WE HAVE ON OFFER MANAGEMENT ARE PROUD TO ANNOUNCE THAT WE ARE CLOSED ON CHRISTMAS DAY ,BOXING DAY ,NEW YEARS EVE ,NEW YEARS DAY AND ALL  UK BANK HOLIDAYS AS WE FEEL THAT ANY BUSINESS IN RETAILING IF THEY DONT MAKE IT IN 357 DAYS OF THE  YEAR THEY ARE UNLIKELY TO MAKE IT IN 365 DAYS OF THE YEAR AND REALLY ALTHOUGH WE LOVE WHAT WE DO THERE IS SOME THINGS WHICH ARE JUST THAT BIT MORE IMPORTANT. NEEDLESS TO SAY WHEN YOU ARE EATING YOUR CHRISTMAS DINNER THIS YEAR WE WILL NOT BE ONE OF THE RETAILERS ADVERTISING THEY ARE OPEN THE FOLLOWING DAY………..DON'T YOU JUST HATE THAT! ANYWAY  WE DO HOPE YOU WILL VISIT US  VERY SOON AT OUR  NEW  SHOWROOM IN CARDIFF ALL THE VERY BEST MARTIN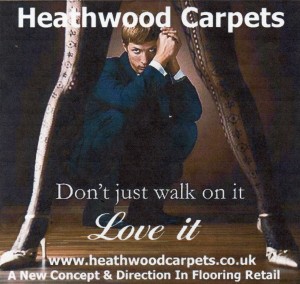 BRING THIS ADD TO CLAIM YOUR REAL 10% DISCOUNT ONE VOUCHER PER CUSTOMER AND TO BE USED AT POINT OF SALE ONLY.   OFFER  IS FOR MATERIALS ONLY AND EXCLUDES  FITTING  CHARGES " IN THE PURSUIT OF PERFECTION"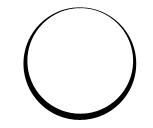 and supporters of a winning team  
 "WILL ALWAYS BE BLUE"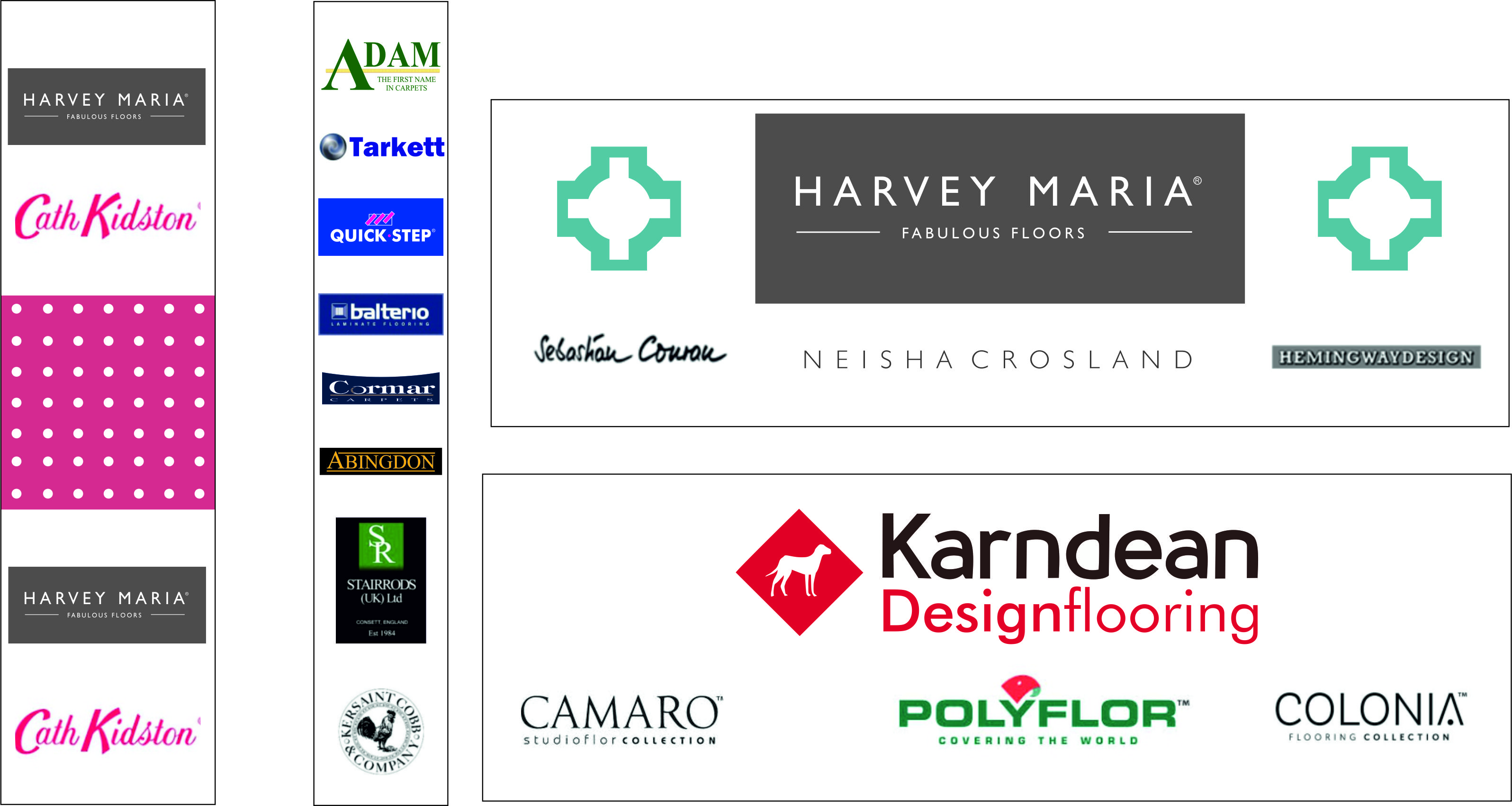 HEATHWOOD  CARPETS ……..PROMOTING THE BEST PRODUCTS AVAILABLE IN THE FLOORING  TRADE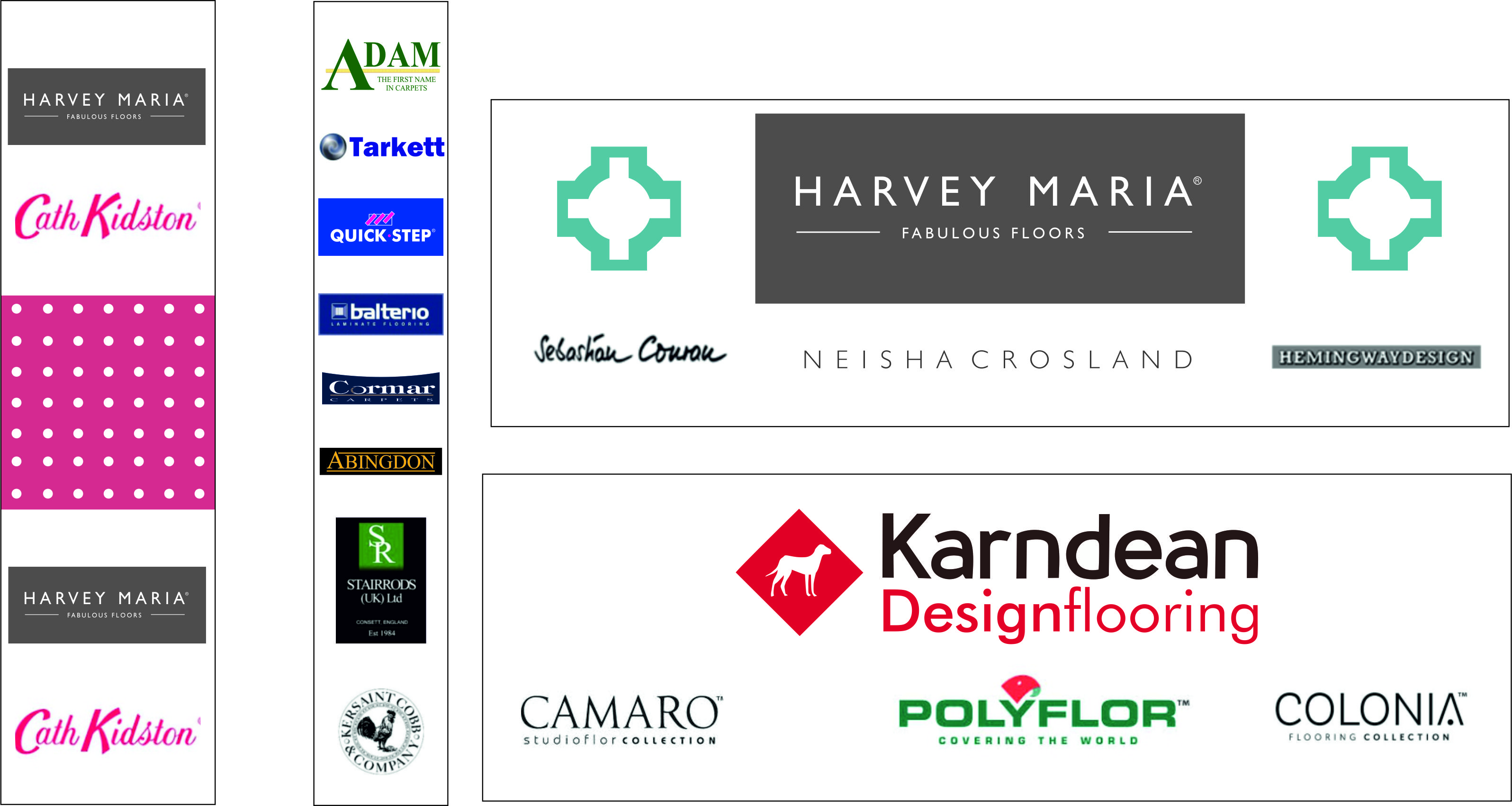 "inspirational flooring for a home less ordinary"       please  click  below   for  info  for   birchgrove  primary   school  christmas   fayre   christmas fayre banner 2014 (6)